At Netra Polyplast Quality Matters.
With cutting-edge technology and modernised systems, Netra Polyplast aims to stay at the edge of technological innovation and product excellence. And we are committed to constantly offering innovative solutions that contribute to customer satisfaction.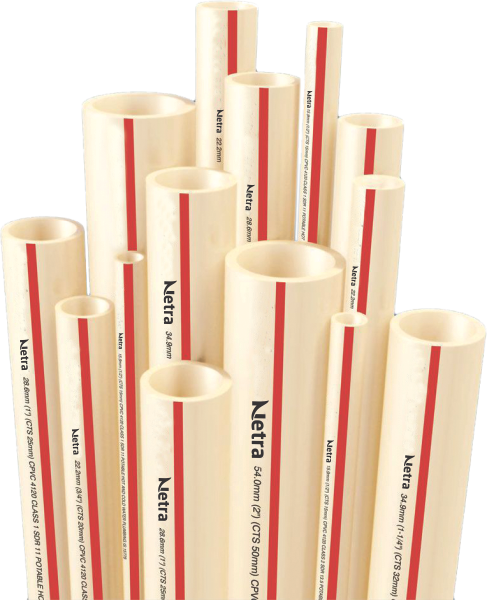 cPVC

(Chlorinated

PolyVinyl

Chloride)

Pipe
Netra cPVC pipes and fittings are manufactured from a specially formulated compound in accordance with Indian Standards.
The pipes are made as per ISI and fittings are made as per ASTM D 2846.
The pipes are supplied plain in 3 meters and 5 meters lenth in SDR 11 and SDR 13.5 respectively.
The complete fittings are available in SDR 11 class.
The pipes and fittings are available in 20 to 40mm (3/4″ to 1 1/2″)
cPVC pipes and fittings is a safe, long lasting and cost effective solution for hot and cold water supply in residential, commercial and public project, high and low rise building, corporate houses & academic institute and gas & solar heater application.
cPVC

(Chlorinated

PolyVinyl

Chloride)

Fitting
Are you looking for one of the best quality cPVC Fittings? Then you come to the right place. Here, at Netra Polyplast, you can get one of the best quality products at an affordable rate. We never compromised in quality and with the finest quality raw materials. With the best quality materials, we manufacture different cPVC pipes in different sizes.
So, get the perfect size pipe that best matches your requirement. With the standard quality and customised size, we provide the cPVC fitting service. Get a quality pipe only at Netra Polyplast at an affordable rate.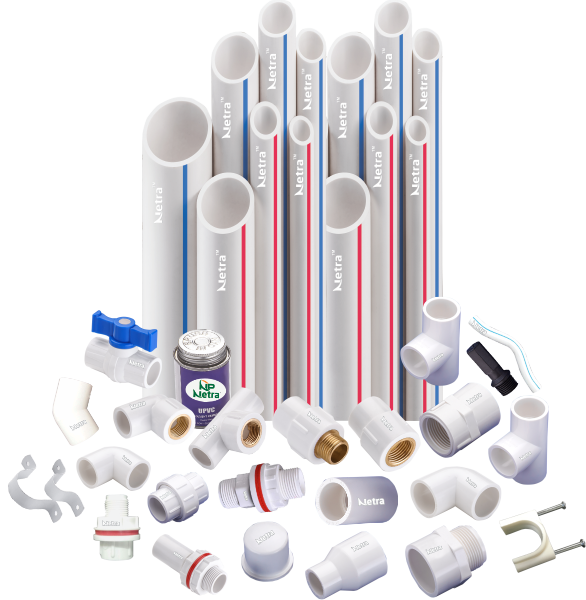 uPVC

(Unplasticized

Polyvinyl

Chloride)

pipe
Netra Polyplast is well known for providing one of the best quality uPVC pipes. Unplasticized Polyvinyl Chloride, which we use to manufacture UPVC pipes, is a low-maintenance and inexpensive material. That is used in buildings for the distribution of potable water or the transfer of water in bathrooms, kitchens, sinks, labs, etc.
Also, it is used for the transportation of saltwater in industries or manufacturing lines in sectors like sugar, paper, etc., as well as for the provision of water through bore wells and overhead tanks in buildings, homes, offices, hotels, hospitals, and public areas. Contact us and we will provide one of the best solutions as per your requirement.
uPVC

(Unplasticized

Polyvinyl

Chloride)

Fitting
UPVC pipes and fittings are the best options for plumbing that needs strong tensile and impact strength. Compared to metal options, they are made of sturdy unplasticized plastic that does not rust or split easily and lasts a long time even with minimal care.
Additionally, installing lightweight Netra Polyplast's uPVC pipes and fittings is quicker and easier. The inner surfaces of uPVC pipes and fittings are smooth, which inhibits bio-growth and deposition.
Precision manufacturing and approval processes are used to create and approve UPVC pipes and fittings. It aids in getting the best fit and finish for the product. As a result, both the overall project expenses and the operational cost of employing our UPVC pipes are considered reasonable. So, Contact us and get your best quality uPVC pipe and fitting today.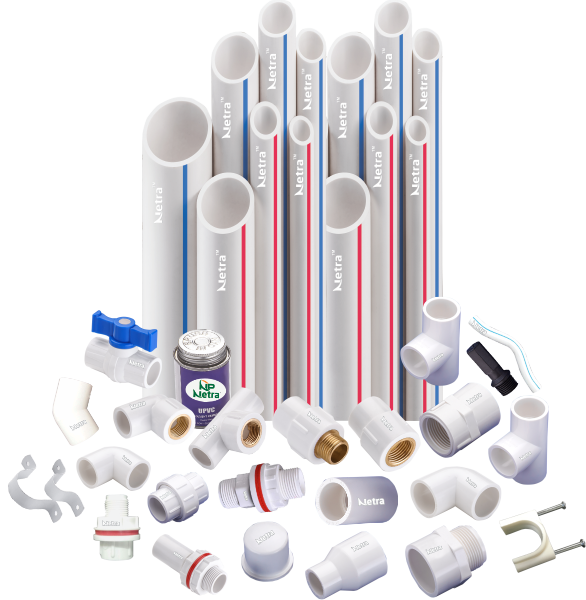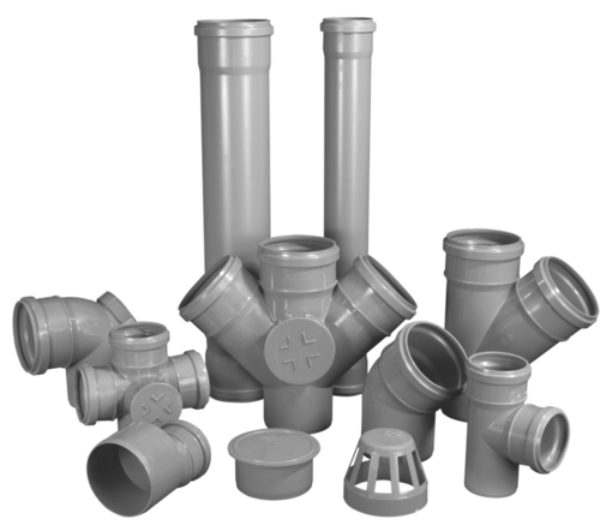 SWR
(Soil,
Waste
and
Rainwater
Pipe)
Pipe,
Ring
and
Fitting
The pipes and fittings made by Netra Polyplast SWR are particularly manufactured from premium raw materials, and provide an excellent method for effectively removing waste from the drainage system.
SWR pipes and fittings are used for non-pressure plumbing applications, such as the movement of soil, waste, and rain, non-pressure commercial drain applications, and waste discharge systems in apartment and commercial buildings, resorts, and hospitals.
Making Netra Polyplast SWR pipes involves a strict quality assurance strategy across all stages of production, which provides the product with a high level of dependability. It is the go-to option for top MEP consultants, architects, builders, plumbers, and quality-conscious individuals nationwide. Here meet your desired quality of SWR Pipe/fittings.